Larry had been hoping for a rainy Sunday for several weeks now, ever since we heard about the
David Plowden exhibit
at
Davenport's Figge Art Museum
. This exhibit continues through 11September2016. It is impressive and brings joy. Plowden is especially known for his urban industrial landscapes, but he also has some incredible people studies, captures of cultivated fields and fields in winter, depictions of lonely motels and magnificent bridges, all in black & white, all incredible to behold. We could have spent hours there on the 3rd floor.
I'm not sure if one could have or not, but I did not take any photographs, knowing I could not do the artwork justice and hoping to rush to the gift shop before it closed to purchase the exhibit book and maybe any postcards it might have reproduced for this exhibit, which after all is not a travelling one. Of 70+ of those wonderful works, what did I get? Nada. Zippo. Yes, there was a small shrinkwrapped volume of his photographs which specifically featured some of his photographs taken in Iowa, but that is not what this exhibit is about. It's about a changing America, little seen scenes of hotels and tugboats and tugboat captains and tugboat cooks and and smelters and bread ovens and parking lots on Easter morning and the Statue of Liberty in the distance as well as fields and horizons and small town streets. These were donated by Plowden and his wife so it's not like it will be a fleeting exhibit or prohibitively expensive to get permissions from other institutions to reproduce images. It was surely disappointing. Best thing would be for you to go Davenport and see the photographs and then, come to Books on First as we do have in stock
A Handful of Dust
, a wonderful collection of David Plowden's work.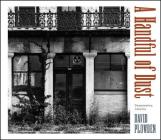 We then walked to Front Street Brewery, billing itself as the oldest brew pub in Iowa, for the oldest modern beer made in Iowa -- Raging River, and a bite. Pleasant enough and foodie-visit-worthy. We didn't want to get too filled as we were looking forward to going to north to meet I-80 and jumping off at Ladd, IL. As we were asking the bartender for directions to an on-ramp going east, a waiter coming for a drink order overheard us and exclaimed, "Ladd! Rips! The World's Best Chicken!" We had been trying to explain just how famous the town of Ladd, Illinois, with its fried chicken is and we discovered that the reputation has reached at least 80 miles away into another state. And, of course, there was a wait of nearly an hour after we arrived at 7pm, but for such chicken, it was worth it.